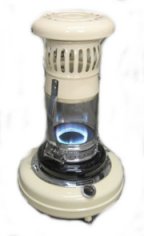 . .
World's Largest Selection of Wicks!
Wicks for virtually every heater, stove and lamp made since 1850
How to Identify Center Draft and Kosmos Lamps
```` Often the only photo sent with a request for identification
| | |
| --- | --- |
| Nice photo but the shade covers the actual "lamp'' completely - there are no clues whatever that can be used to identify the lamp. | |
Flame Spread Clearly Shows The Manufacturer...but not the size
| | | |
| --- | --- | --- |
| Remove the shade and low and behold, there is a flame spreader that answers the question of identity! | | |
No Markings on Lamp But Lots of Clues!!!
| | |
| --- | --- |
| No flame spreader, no markings on lamp, so the clues needed are best done with a photo of the burner in profile with the wick knob facing the camera. Now we can see the burner configuration, the wick knob and the embossing pattern. By reviewing Courter's Center Draft Lamp book, we can see those clues indicate the lamp was made by P&A prior to 1898 and is a #2 P&A Royal burner on a drop-in font. | |
Draft tube and Outer Wick Tube Equal Height
A photo from this angle shows the center draft tube ("C") and the outer wick tube ("O") are the same height. If the lamp had been electrocuted for the addition of an electrical light bulb socket the center draft tube would have most likely been cut down. That is a MAJOR problem as the lamp could not be restored to liquid fuel without a replacement of the draft tube.

Measuring the INSIDE DIAMETER of ''C" and the OUTSIDE DIAMETER of "O" will allow the determination of the SIZE of the burner and thus the wick required.
Burner Damage
| | |
| --- | --- |
| A photo of any damage to the burner will reveal if the burner can be repaired or used as-is. Click on the photo at right and you will see a horizontal crack in the gallery right below the chimney seat. In this case the burner could still be used. | |
Easy Identification of Kosms Burners
The photo near right shows a typical side-draft Kosmos air cutout in the outer wick tube.

The photo far right shows the wick tube is clearly marked for the size and type of burner - in this case it is a 14''' Kosmos. Not all Kosmos burners are so nicely marked.
FINDING THE WIDTH OF KOSMOS WICK REQUIRED - Click here
FINDING THE CORRECT SIZE KOSMOS CHIMNEY - click here.
MEASURING TO FIND THE PROPER SIZE CENTER DRAFT CHIMNEY
Much more detailed information - click here
How to measure to find the correct wick for an old heater. Click here
---
Home Page Click Here

Heater Information below

Lamp Wicks:

Center Draft Wicks - Wicks available only from this Wick Shop.

Aladdin Lamp Wicks & parts

Lamp Chimneys:

Center Draft Lamp chimneys
from "Tiny" Junior to Mammoth lamps.

Fabulous "Sans Rival" borosilicate chimney for 14''' Kosmos lamps

Student Lamp Sans Rival Chimney with 1 7/8" fitter!!!

Information on lamps:

Center Draft Kerosene Lamps
(Photos, information and history, etc)

Photos of restored center draft lamps

Care, Feeding and Restoration of Center Draft Lamps (and wick installation for many)

Center Draft Lamp manufacturers and brand names

Lamp Chimneys - Dimension of nominal base diameter by make, model and "line".

Early American Metal Font & Specialty Lamps

Aladdin Lamp Wicks & Chimneys,

Aladdin - Exploded burner views

Kosmos-Brenner lamps and wicks

Flame Spreaders and "Smoke Consumers" from Alex Marrack

Vulcan, Imperial, Veritas, Belgian, Hinks, Messenger's, Young's Court, etc.

Articles by Alex Marrack:

Site Index for all things Perfection

Kindler Wicking For Oil Stoves & Ranges

Kerosene Heaters

Alphabetical list of most kerosene heaters and the proper wick, & cart checkout.

List by wick number and the heaters that fit them. (A helpful guide for buying on eBay)