WICKS TO FIT THE HEATERS LISTED BELOW - AND MORE!
Unique Specialty wicks
for 19th Century lamps
World's Largest Selection of Wicks!
Wicks for virtually every heater, stove and lamp made since 1850
The L&B Lamp Belge or Belgian Lampe
by Alex Marrack
Other articles by Alex Marrack
Centre Draught Oil Lamps English and European Models
English Lamp Belge

Photos and commentary by Miles Stair (below)
Patented in 1884 and manufactured in Liege by Lempereur & Bernard, L&B. These were widely sold in the USA by the Belgian Lamp Co, and marked on the winder knob L&B with a smiley-sun face. In the UK they were mainly sold by Lewtas of Manchester, the knob marked LM with a smiley sun face, and marked on the fount or filler cap 'Lampe Nationale'. A few are also found in the UK marked L&B.

| | |
| --- | --- |
| In the UK there was another, very different 'Lampe Belge' sold by the Midland Lighting Co, which is made in England, and although similar (it has a smiley face sun winder), with a similar looking burner, no parts are interchangeable. (This lamp will be covered later.) | |

The Example shown is a L&B marked one, in the form of a patterned brass drop-fount which fits into a bottom-ventilated ceramic vase to form a table lamp. Spares available for these lamps include Flame spreaders, wicks, chimneys, and four inch base shades.

(Note, these lamps have a slightly small chimney crown, some round English chimneys have a rim at the base which makes them too tight in these lamps, so they need to be checked before purchase.)
Close up pictures of the burner show correct placement and proportion of the spreader, also correct relative height of the support pin and inner/outer wick tubes. These lamps burn with a taller, narrower more 'wine glass' shaped flame than most others.

[Click on photos to enlarge them.]
These lamps have a fixed steel pin in the centre of the burner. This is in turn supported by a brass 'tripod' inside the draught tube. The top of the pin stands approx level with the top of the wick tubes. The spreader has a tubular leg that slides over this pin. Lamps often have this pin ripped out to accommodate electric fittings.

(Note from Miles: The pin system provides for very good draft around the flame spreader, but it is also the reason why the flame spreaders are often lost and Alex has to make them; the flame spreader is not attached to the lamp, it just sits over the pin. Tip over the lamp and the flame spreader falls off.)
Photos and commentary by Miles Stair
L&B began making lamps prior to their 1884 patent for center draft lamps with flame spreaders. Indeed, L&B produced limited numbers of center draft lamps in 1883. These lamps are rare and are obvious due to the different shape of the font than subsequent lamps. The US Patent of Dec. 29.1884 by Joseph Lempereur and Lambert Bernard of Liege, Belgium (US Patent No. 333237) was clearly after the January 14, 1884 timble flame spreader patent of Leonard Hinkle (US Patent No. 292114). However, evidence exists (below) that L&B were making lamps using both pedestal and thimble flame spreaders in Europe prior to the introduction of flame spreaders in the US. Emil Wild of Berlin patented a lamp, chimney and flame spreader on August 19, 1884 (US Patent No. 303774).

The lamps shown below are mine except where noted.

| | | |
| --- | --- | --- |
| 20''' L&B center draft, 1883. Note shape of font. | Above, signed cast brass foot. Below, dated flame spreader. | Burner with flame spreader on 1883 20''' Center Draft lamp. Note wick winder is unique. |

`

| | | |
| --- | --- | --- |
| L&B 1879 side draft Matador. The font is the same as the 20''' above, missing only the draft tube. | L&B 1879 14''' side draft with thimble flame spreader. | L&B 1879 - 1883 Flat wick lamp. Note upper half of font shape. |

`

Size comparison of the lamps above.

`

| | | |
| --- | --- | --- |
| | | |
| Later model 20''' center draft. | Same model, embossed | 1883 L&B, embossed, before restoration. Owned by Peter Brickell. |

`

| | | |
| --- | --- | --- |
| | | |
| L&B 20''' hanging lamp | L&B hand lamp, Owned by Peter Brickell. | 15''' L&B side draft. |

20''' Matador compared.

At right, two L&B 20''' Matador burners.

The burner on the left has wick knob indicia "Matador 20''' ". The base of the burner is marked Matador 20''' * Importe D'Allemagne." This burner was apparently for the French market.

The burner on the right is marked on the wick knob "Lampereur & Bernard" with a small smiley face. This burner was apparently for the British market.

At right, the two burners above apart.

There are minor variations between the burners but that could reflect different years of production.

Click on the photos to enlarge them.

There are more photos of L&B burners on the Center Draft & Side Draft Lamp Wick Assembly page. Click here.

L&B US Patent #333,237, Dec. 29.1885. pdf file.
---
Lamp Collector's Resource Library: Old Lamp Catalogs on 3 CD's in SEARCHABLE Adobe - NEW!!! Click Here
Lamp Wicks BY THE ROLL! - SAVE $$$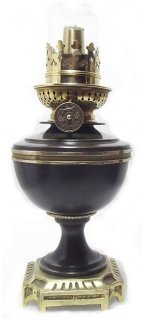 Lamp Wicks:
Center Draft Wicks - many available only from this Wick Shop. #0C, #0S, #0L, #1B, #1M, #1R, #2M, #2L, #2R, #2 P&A, #2B, #3L.
Aladdin Lamp Wicks, chimneys etc
Toledo Torch & Some Dietz
HI SEAS 100C MARINE
DIESEL HEATER WICK
Lamp Chimneys:
Center Draft Lamp chimneys in borosilicate glass from Junior "Tiny" to Mammoth lamps. #0M, Rayo Jr., 2 1/2", 2 5/8", 2 15/16", 3 1/8", 4", 4 1/2"
Standard glass lamp chimneys & Kosmos chimneys

Globe Vulcan (Central Vulcan) Chimneys - 16''', 18''', 24''' & 30''' CHIMNEYS AND WICKS
Fabulous "Sans Rival" borosilicate chimney for 14''' Kosmos lamps
Student Lamp Sans Rival Chimney with 1 7/8" fitter!!!
Lamp Chimneys - Dimension of nominal base diameter by make, model and "line".
Information on lamps:
Photos of restored center draft lamps
USE, CARE and WICKING of CENTER DRAFT LAMPS
Early American Metal Font & Specialty Lamps
Flame Spreaders and "Smoke Consumers" from Alex Marrack
Vulcan, Imperial, Veritas, Belgian, Hinks, Messenger's, Young's Court, etc.
Articles by Alex Marrack:
Registered Design Numbers For British Lamps
GERMAN PATENT LETTER CLUES - DRPs AND DRGMs, 1877 to 1945
Site Index for all things Perfection
Links to web sites for parts, information and restoration.
Site Index for all things Perfection
Kindler Wicking For Oil Stoves & Ranges
Kerosene Heaters
Alphabetical list of most kerosene heaters and the proper wick, & cart checkout.
List by wick number and the heaters that fit them. (A helpful guide for buying on eBay)
Measurements needed if you have an unlisted heater.
Care and Maintenance of Kerosene Heater Wicks
Installing Kerosene Heater Wicks - generic for unpinned wicks
Owner's_Manuals & information for many kerosene heaters
Kerosene Heaters - General types, how they work, recommendations for some good ones - and those I would avoid.
Economic Benefits of Kerosene Heaters
Troubleshooting kerosene heater common problems
Breaking In New Kerosene Appliances
Burning Kerosene Heaters at Night
WATER IN KEROSENE causing "dwindling" and poor performance.
Flame Spreader Heaters and Lamps -
A Century of Excellence
Kerosene Heater Carts -
why carry your heater around?
Kerosene tank cradles (photo) Building a Cradle
KEROSENE HEATERS MADE IN THE NETHERLANDS
Beatrice Boiling Stoves & Mini kerosene heaters you can make
Sad Iron stoves; Wicks & Installation instructions
Wicking For Oil Burning "WICKLESS" Stoves & Ranges
Kerosene Stoves, Lanterns and Ovens
Recommendations on different models

Kerosene Stove Maintenance and Storage

Butterfly A-822, 22 wick, all-aluminum premium stove.

Butterfly #2487, 16 wick stove. Butterfly #2412 Pressure Stove; instructions for virtually any pressure stove.

Butterfly #2418 Double Burner Stove; good with any gravity flow stove.

Butterfly #2421 Oven for Kerosene Stoves

Butterfly #2641, 10 Wick Stove - the least expensive emergency stove.

Butterfly #2698 Cook Stove -
THE Best Heavy Duty Cook Stove.

Butterfly #828R Pressure Lantern; same for most pressure lanterns.